ISSB Picture Illustration 5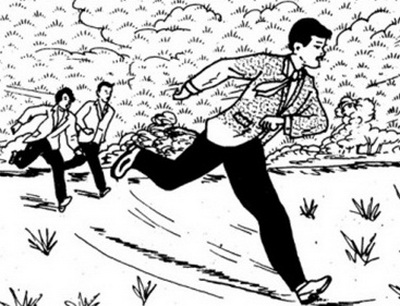 The final goal or ultimate object of all human effort, endeavor, wish, want, desire or activity is happiness. Whatever one does, no matter what the intermediary aims or objectives are, he does it with the ultimate hope of finding happiness. Mental satisfaction, physical satisfaction, sense of achievement or accomplishment, possession of wealth, health, or power — all ultimately are sought for that end viz happiness. Each individual has different connotations and concepts for happiness. An insight into the individual, s mind as regards his idea of happiness and goals or objectives or methods through which he intends to realize them, will enable us to understand the individual. Such an understanding will also help us to learn the personality characteristics of the individual. It is difficult to obtain correct data of an individual's attitude by obtaining conscious or thought out answers to set questions. The Thematic Apperception Test is therefore employed to learn about the real nature of an individual's personality. In this technique, the candidates are asked to write stories, on the sport, about what they see in a structured picture. Here is an example of such an analytical study. You can also assess your own personality by carefully following the technique.
Note: Click expand or collapse Panels.
Javed is an active and Keen college student. He is fond of traveling and outdoor life. When the summer vacation began he proceeded on an all Pakistan tour with some of his friends. While on this tour he happened to be traveling by train from Karachi to Lahore. It was a night journey and the passengers were all asleep. Suddenly shrieks woke up Javed and his friends. In a flash Javed saw two men running towards the door and a woman crying 'chor', chor'. Without the slightest hesitation or fear, Javed ran after the two thieves. Just then the train slowed down and the thieves jumped on to the ground. Javed shouted to his friend to pull the alarm chain and at the same time he jumped down from the train after the thieves. One of the thieves had hurt himself and was unable to move. The other was attempting to make his escape by running away. Javed ran after him and caught had of him. Although the thief tried to attack Javed with a dagger, Javed overpowered him. By then the rain had stopped and other passengers came to help. The two thieves were part of a notorious gang and the incident led to the capture of the entire gang. Javed received the president's medal for his bravery and courage.
Comments
The hero of the story is pictured as an active and agile person. We see the likes to travel, out-door life, and adventure. The fact that he goes on a tour with his friends indicates his social adaptability and team spirit. He is acceptable to others. His bold action to chase and capture the thieves highlights his initiative, sense of responsibilities, courage, and self-confidence. He is able to make up his mind instantly. His request to his friend to pull the alarm chain indicates that he can think and plan fast. The story has a positive ending. The candidate thus proves to be an optimistic and capable individual. Selected.
Arslan belongs to a poor family. He is not so good at his studies but his father was strict and got very angry whenever. Arslan failed in any subject. Arslan is very much afraid of his father. Now when the results were published Paul found that he had failed in his examination. Afraid to face his father, he decided to run away. He boarded a train and 'traveled for a few hours. He had neither ticket nor money. He felt hungry and afraid. He did not also know where to go and what to do. Just then he saw that the ticket examiner was checking tickets of the passengers in that compartment He was frightened since he had no ticket. He, therefore, jumped from the running train. In his hurry and confusion and he did not notice where he was jumping. He fell into a ditch, broke his neck, and died.
Comments
A Poorly written story which reflects the negative and defeatist attitude of the candidate. The hero is a mild and diffident character. He lacks self-confidence. He does not have the courage to face facts squarely and with determination. Instead of grappling with problems he tries to run away. First, he ran away from home. Next, he tried to run away from the ticket examiner. He has no sense of responsibility. He does do not think in advance and plan in a methodical manner. He seems to be totally lacking the vital organizational ability. Thus we infer that the candidate is a weak, dull and pessimistic person. Rejected.
Ali was a disappointed lover. He was studying in the final year engineering when he fell madly in love with a girl who was studying at the nearby Arts College. But the girl did not reciprocate his love. Ali became. Anxious and worried. He also neglected his studies and finally failed in his exam. His parents urged him to continue the studies but Javed felt that he could never pass the examination. He decided to try for a job and forget the girl. But he did not succeed in both. He could not forget the girl. Neither was he able to get a job? He, therefore, decided to end his life. He wrote a letter blaming the girl for not loving him. Finally, he jumped from a running train and committed suicide.
Comments
The hero in this story is a feeble and indecisive person. He lacks self-control as well as self-confidence. He is unable to tackle a problem with patience, determination, and imagination. He is unable to rise over his initial disappointments and set-backs. He gives up as soon as he is confronted with the first difficulty or failure. He does not plan or organize in a methodical and systematic manner. He does not also stick to a job with tenacity. He likes easy solutions. He takes failures for granted and anticipates them. The' author thus does not display the will to win. A confused and mudding candidate lacking in mental as well as social resources. Rejected.
Jamal was proceeding by train to Lahore as the senior member in charge of his College NCC team to take part in the Republic Day Celebrations. Jamal was extremely popular with his fellow NCC cadets and they were enjoying the train journey very much. The other passengers found Jamal and his boys to be very helpful in providing drinking water arranging for meals etc. and keeping the compartment clean. When the train was crossing a river bridge one of the children who was playing near the door accidentally fell into the river, instantly, without any hesitation Jamal jumped out of the train and plunged into the water. Being a good and powerful swimmer he was able to reach the drowning child and save it from certain death. Jamal's heroic deed was appreciated by one and all. He was awarded the Prime Minister's bravery award in Lahore.
Comments
The story depicts a powerful and action-oriented personality. The hero belongs to the NCC and occupies a leadership position. He is popular in his team and the whole group enjoys the trip. The sense of responsibility and special liking for an order is brought out by the narrative concerning the helpful acts performed by the team to the passengers. The hero takes a swift decision and acts with great courage and complete disregard for personal safety. He has good stamina and physical strength. He succeeds in saving a life. The candidate thus person himself as an intelligent optimistic and confident person having talent and resources for organization and leadership. Selected.